Updated Equitable Value Explorer Data Provide New Insights on Disaggregated Student Earnings
Published Jun 23, 2023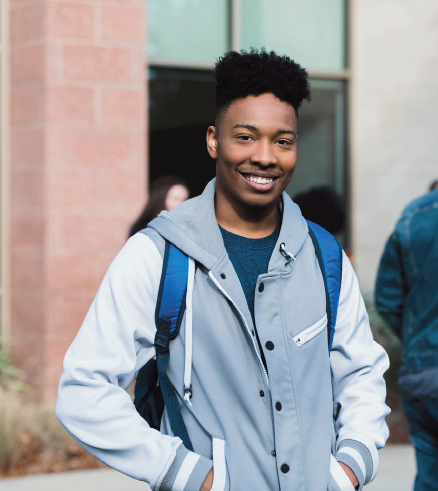 By: Marián Vargas and Kim Dancy 
Are today's students getting ahead, getting by, or even falling behind when it comes to their post-college earnings? IHEP's an Equitable Value Explorer, interactive data visualization tool that compares the post-college student earnings for more than 4,000 colleges and universities across the country, is helping to answer that question. The tool measures the economic value that institutions deliver to students using a series of economic value thresholds developed by the Postsecondary Value Commission. The thresholds provide benchmarks for measuring economic value students receive relative to earnings of other state residents to help institutional leaders, researchers, and policymakers better understand outcomes and implement reforms to improve equitable postsecondary value.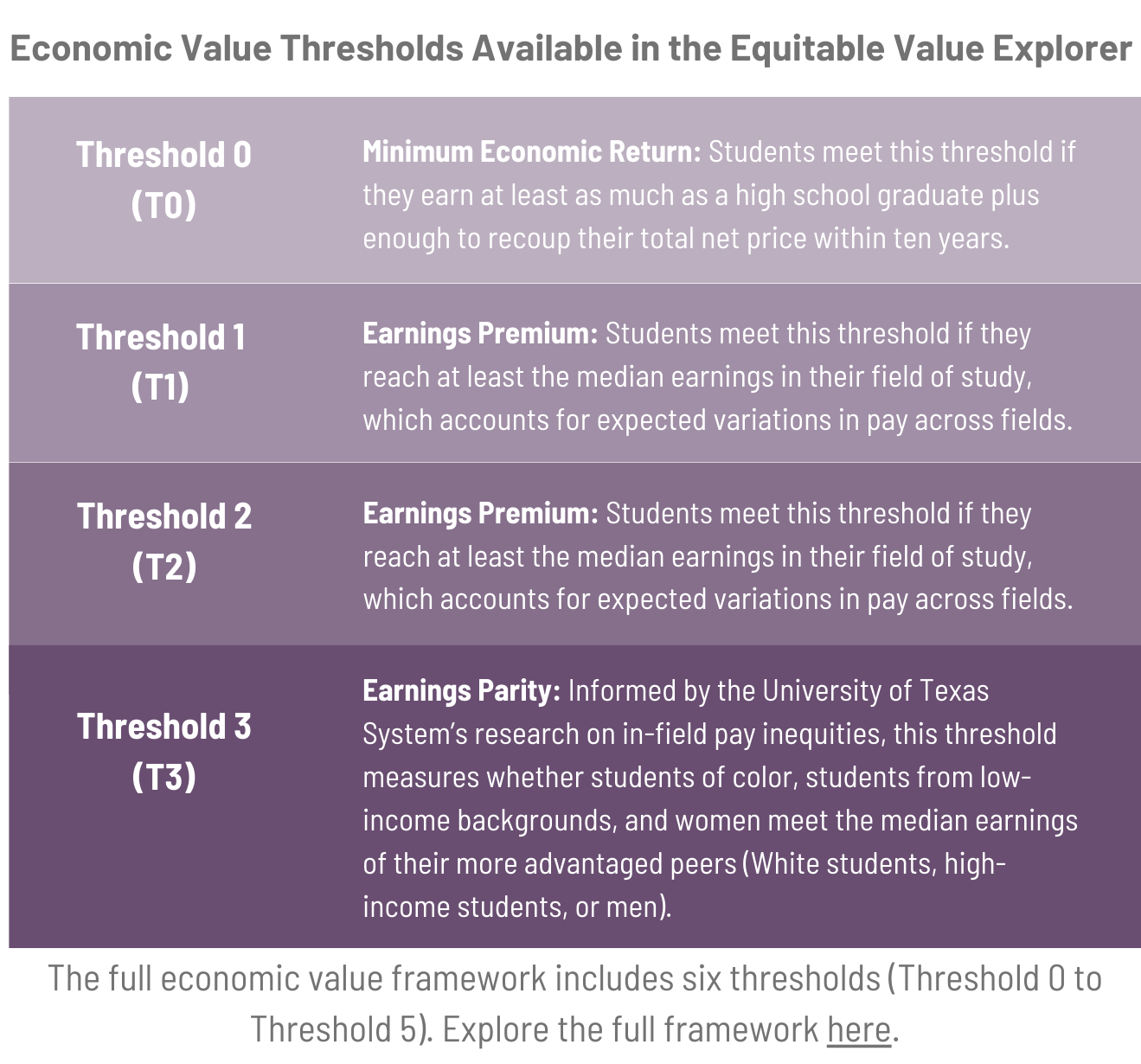 To maximize the tool's impact, the Equitable Value Explorer was updated last month to include the most recently published data from the College Scorecard, the Integrated Postsecondary Education Data System (IPEDS), and the American Community Survey (ACS). This update leverages the expanded metrics included in the College Scorecard, enabling comparisons of disaggregated median earnings of students, by gender and family income, to the value thresholds for each institution. By shedding light on inequities in higher education, the Equitable Value Explorer offers a deeper understanding of how different student subgroups experience economic value.1 
The Equitable Value Explorer calculates the economic value thresholds using median earnings data from the ACS compared to student earnings ten years after initial enrollment (regardless of completion status) at a postsecondary institution, published in the College Scorecard. For example, at one sample college, the difference between the typical student's median annual earnings ten years post enrollment ($54,129) and Threshold 0 for their state ($40,658) means that students' typical earnings exceed Threshold 0 by over $13,000. This indicates that these students earn more than the typical high school graduate in their state, plus enough to recoup their investment in college within ten years. 

Institutional profiles within the Equitable Value Explorer now include both overall and disaggregated post-college earnings outcomes by gender and family income, allowing users to easily compare outcomes for different groups. For the same sample college, the median earnings for students from low-income backgrounds ($52,318) exceed the overall minimum economic return threshold (Threshold 0) of $40,658 and the overall economic mobility threshold (Threshold 3) of $46,612.  

Users can also contrast disaggregated earnings outcomes with disaggregated value thresholds, which are calculated using earnings data for individuals in particular race and ethnicity or gender groups. Women's median earnings at the sample college ($50,685) exceed the women-specific Threshold 0 ($36,006), Threshold 1 ($46,348), and Threshold 3 ($41,827). While disaggregated earnings are not yet available by race and ethnicity, users can view disaggregated value thresholds for colleges by race and ethnicity group depending on their enrollment demographics. These race and ethnicity value thresholds can then be compared to the overall earnings at the selected institution.

Researchers and policymakers can leverage the Postsecondary Value Commission's postsecondary value framework and Equitable Value Explorer to increase transparency and fill in gaps in our postsecondary data system. Increased transparency can also help students more easily identify the colleges and programs of study that deliver a good return on investment for individuals from similar backgrounds.  
To further explore the equitable delivery of postsecondary value, IHEP is currently seeking proposals for research papers utilizing the data in the Equitable Value Explorer. Selected researchers will receive support from IHEP to publish reports based on original data analysis and synthesis. Want to participate in this research opportunity? Submit a proposal by 5:00 pm PT on Friday, June 30, 2023.  
IHEP's latest research, Rising Above the Threshold: How Expansions in Financial Aid Can Increase the Equitable Delivery of Postsecondary Value for More Students, uses publicly available data to estimate the number of colleges that provide a minimum economic return (Threshold 0) for their typical student and explores policy interventions that would increase equitable value by improving affordability. Read the executive summary and explore the full report.  
(1) The categories used to describe gender (male, female) and race and ethnicity (American Indian and Alaskan Native, Asian, Black, Hispanic, White, and Additional Races) are based on the data available in the College Scorecard and ACS.