How IHEP is Accelerating the Equitable Value Movement
Published Oct 26, 2023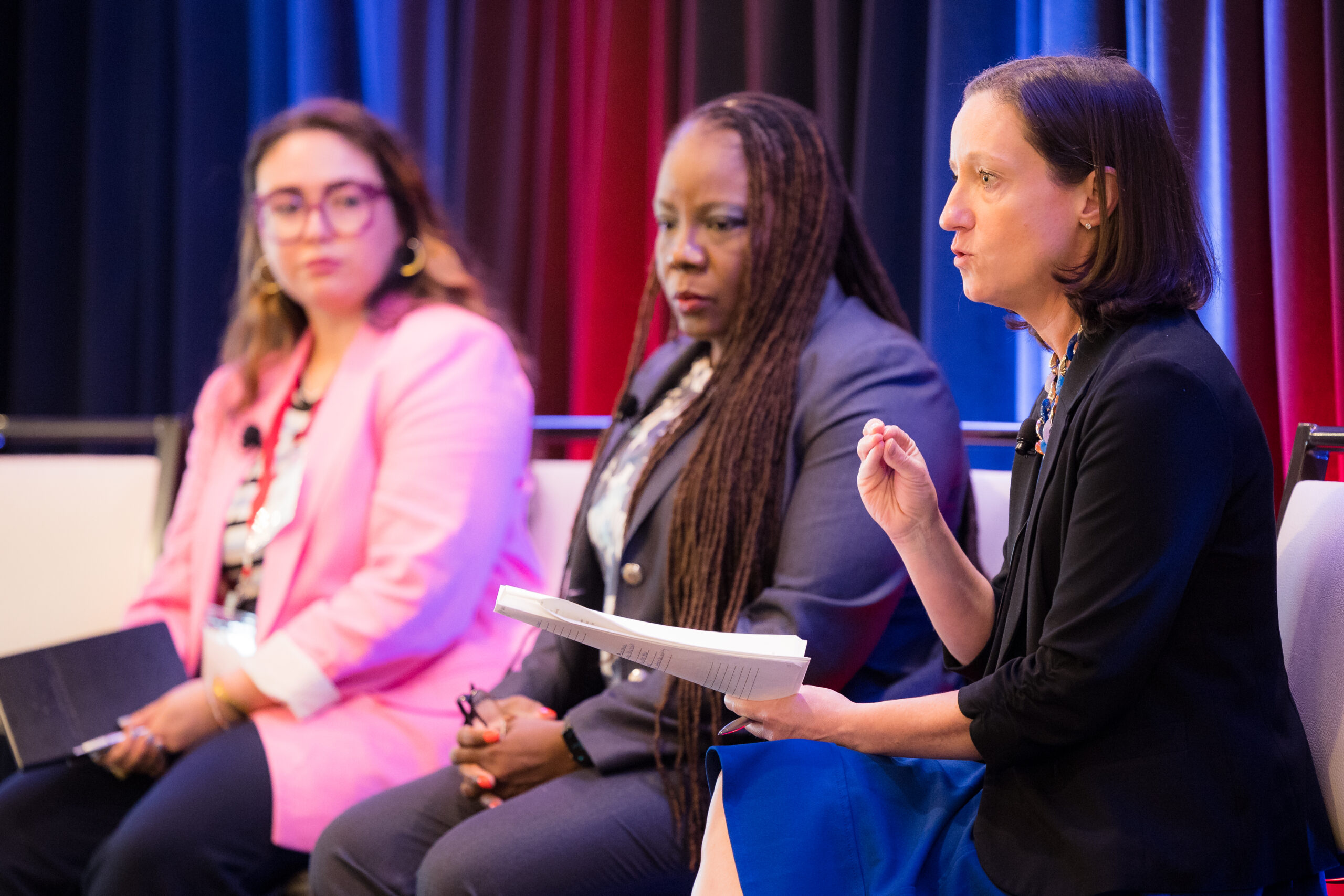 Reflections from our recent Postsecondary Value Community of Practice event 
By: Marián Vargas and Eleanor Eckerson Peters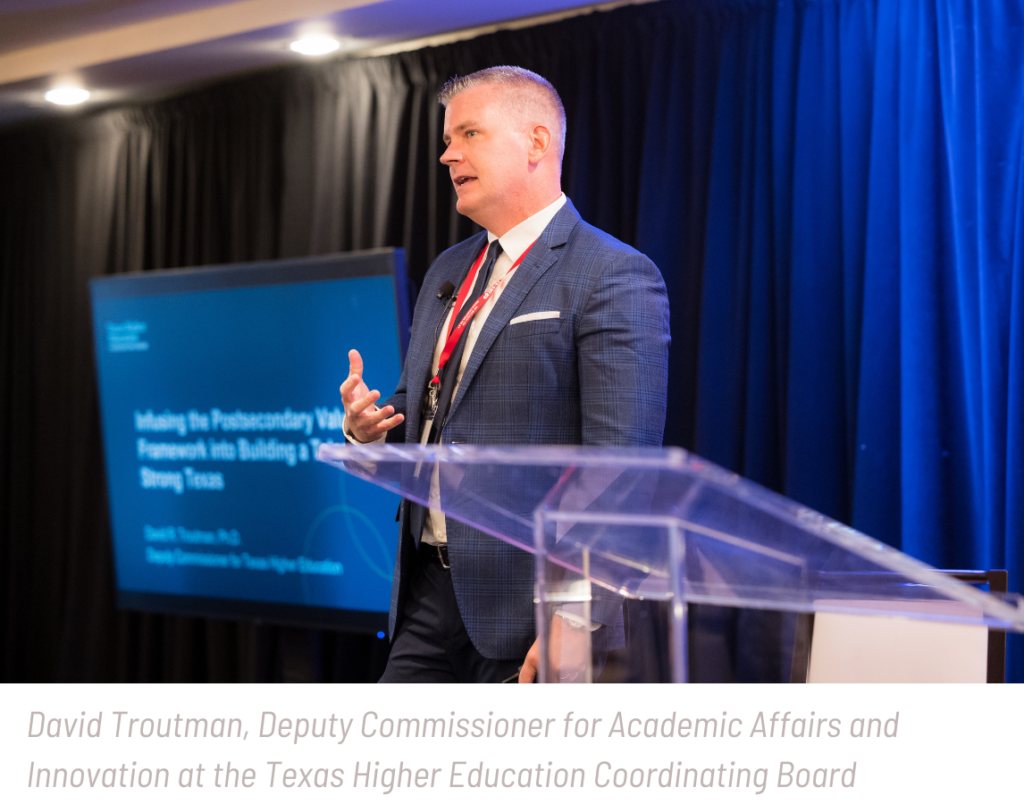 "Postsecondary value is not just a framework, but a lens through which to see the world, [and] it must be infused into the DNA of our collective efforts." David Troutman's reflection captured the energy and passion of the Equitable Value Movement and was shared during his keynote remarks at IHEP's recent Postsecondary Value Community of Practice event. He serves as Deputy Commissioner for Academic Affairs and Innovation at the Texas Higher Education Coordinating Board and welcomed students, researchers, and institutional, state, and national leaders to the October 5th event.  
Attendees from across the country joined IHEP to explore a shared commitment to improving postsecondary outcomes for all students and the use of data to better understand and improve the return on investment of higher education for individuals and communities. The event highlighted progress within the Equitable Value Movement, elevated lessons for driving change at the institutional, state, and federal levels, and showcased data-driven policies to boost student success and continually improve postsecondary value.
Several key themes emerged from the day's presentations and conversations…    
Strength in Diversity of Voices and Approaches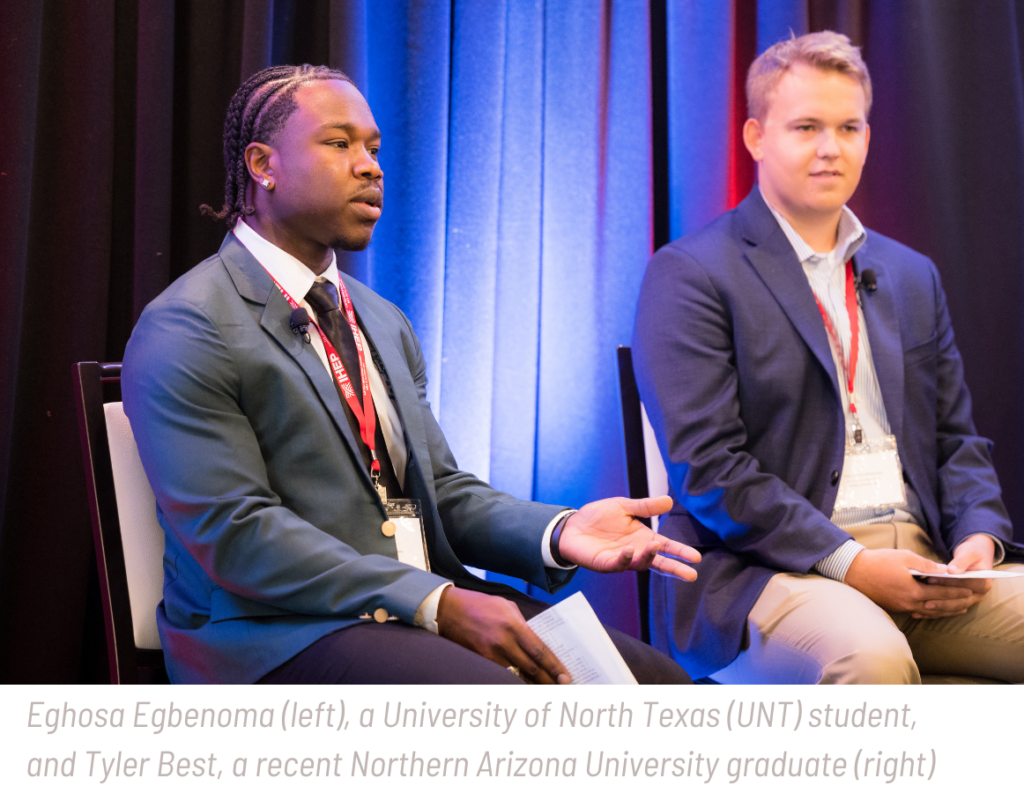 The Equitable Value Movement's strength is the breadth and diversity of its supporters and the many approaches to improving student outcomes. Researchers, practitioners, and policymakers at all levels must partner to improve the delivery of postsecondary value to students; no single policy or practice change is sufficient. Student perspectives should inform these efforts. Eghosa Egbenoma, a University of North Texas (UNT) student, and Tyler Best, a recent Northern Arizona University (NAU) graduate, highlighted that affordability heavily influenced their college decisions and informs their understanding of postsecondary value. Attendees affirmed this focus on affordability, with many implementing policies and practices to boost value for students. Researchers in attendance are addressing racial, ethnic, and income disparities in affordability and developing more targeted approaches to distributing financial aid. NAU guarantees zero out of pocket tuition for students with family incomes below $65,000, and Olive Harvey College implemented programs proven to boost affordability and economic mobility, such as childcare support and career development. Other institutions described efforts to implement evidence-based practices, like CUNY ASAP, to improve college completion and in turn postsecondary value. States including Colorado and Texas shared how they measure economic value and use those measurements to boost attainment of credentials of value within their states.  
Data Must Guide Decisions
Data-driven tools such as the Equitable Value Explorer, which includes post-college student earnings at more than 4,000 institutions, help improve understanding of postsecondary value and accelerate value-focused policy development. Equitable Value Explorer data can be disaggregated by student demographics based on gender and income. At this month's event, institutional and state teams used Equitable Value Explorer data to explore how institutions are delivering value, and to which students. Based on those data, they discussed strategies to improve the delivery of postsecondary value to students, such as those who face systemic barriers to success within college and to employment after graduation. Speakers also stressed that qualitative data must be leveraged alongside quantitative data to tell a comprehensive and compelling story about the societal impact of postsecondary education. Qualitative data can help identify students' unique needs at the regional level, which state and federal quantitative data sources often struggle to capture, particularly for students of color.  
Beyond Economic Returns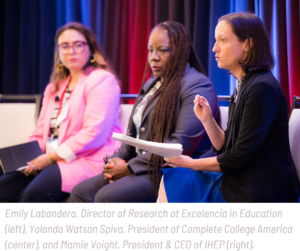 Equitable postsecondary value goes beyond financial return on investment. While many agree that a
postsecondary education should leave students financially better off than if they had never attended, economic return alone offers an incomplete picture. Students Eghosa and Tyler emphasized networking, mentorship, and self-fulfillment as important components of the value they derived from their college experience. Yolanda Watson Spiva, President of Complete College America, and Emily Labandera, Director of Research at Excelencia in Education, highlighted the complexity of measuring economic value, particularly for Minority Serving Institutions (MSIs), because of the impact of labor market discrimination on employment and wage outcomes for students of color and women post-graduation. To counter these unfortunate trends, they advocated for strong career preparation programs and networking opportunities at MSIs, in alignment with Eghosa's and Tyler's reflections on value. Beyond individual student gains, Yolanda and Emily also highlighted the role of colleges as catalysts for research and innovation that can uplift communities and the nation writ large.
You Can Join the Equitable Value Movement
The Value Community of Practice event showcased IHEP efforts to advance the Equitable Value Movement through the Value Data Collaborative (VDC), an initiative that empowers participating states, institutions, and systems to conduct original research, examine data analytics and infrastructure, collaborate with peers, and drive meaningful policy and practice changes. Representatives from the inaugural VDC cohort —Julie Mueller, Chief Economic Advisor to the President at NAU, and Angie Tombari, Senior Research Scientist at Kentucky Stats—shared how the VDC empowered their use of data to inform policies that support the equitable delivery of postsecondary value for more students and to connect with like-minded data and policy experts.  
IHEP is now accepting applications for the next VDC cohort. Interested state agencies, institutions, and systems can explore the details in our request for proposals. Multiple participation tracks can accommodate varying levels of staff and resource capacity. Honoraria are available to support staff engagement in selected tracks. Apply by January 2, 2024.  
This post is only a snapshot of the insights shared during IHEP's Value Community of Practice event. Team IHEP thanks the speakers who shared their expertise and the attendees for their ongoing commitment to improving postsecondary value. Read more about the agenda, the full list of speakers and discussions here.  
All photos courtesy of Event Photojournalism